Dear club members, dear other club supporters,
I sincerely hope that our loyal Rosenkinder supporters have started the new year well and especially healthy. Some of you may have already followed our latest adventures in Sri Lanka on our homepage ( see also: https://www.rosenkinder.org/2023/01/reisebericht-live-bericht-2023/ ) or on Facebook. You – 6 members of the association plus Melanie Bierut – have escaped the European winter and have dedicated ourselves intensively to the Sri Lankan spring and our various Rosenkinder project plans. Despite all the concerns and news in advance, we had a wonderful and especially successful time in the land of the "Rose Children". The economic crisis was noticeable because there were fewer tourists, but a lot of Russians in the country. Corona no longer played a role in everyday life there either. There was no apparent food shortage. However, large parts of the population lack the money to buy it. Because of the state bankruptcy, imported articles were almost non-existent or only available at astronomical prices. But there are glimmers of hope for the country. China, as one of the big state lenders, has just agreed to a debt restructuring and thus cleared the way for the desired and hoped-for fresh funds from the IMF. This has also been bought with government measures, which the population perceives as a further burden and which have currently led to minor unrest and the suspension of the local elections planned for the spring. A clear sign of the easing of tensions, however, is that the exchange rate between the euro and the Sri Lankan rupee has reacted immediately. When we started our holiday at the beginning of February it was still 1 euro to 395 rupees, now it is currently 1 euro to 345 rupees. This does not affect our current projects, but especially a new project for the Rosenkinder.
And what about the rest of our projects?
1. Current project "Rosenkinder" Sponsorship in cooperation with the Lions Club Aluthgama/Bentota
The meetings with our sponsored children are always highlights of our trip. Of the 70 sponsorships currently being supported, we have met 66 children/young people in person. We asked them about their status in school, studies and family and then extended the sponsorship for the next 6-month period or also accepted some new "rose children" into our circle. Two big meetings in the letter garden and in the temple of Kotapola were magnificently prepared by our long-time helpers Chandani and Dooland. As usual when we are on site in Sri Lanka, we visited 2 previous sponsored children and 2 new sponsored children in their home environment. This is always very enlightening and informative. On the one hand the really very simple living conditions and on the other hand the dedicated children and proud parents experienced live. Now some statistics. At the end of the funding period in January 2023, 17 sponsorships were terminated. We terminated 2 of these sponsorships after previously issuing warnings due to a lack of cooperation and information. However, 15 sponsorships were successfully completed, 11 of them with a university degree and 4 with an A-level school leaving certificate. We have taken on a total of 16 new godchildren. Of these, 14 can start their studies immediately. Some of them had waited 1 to 3 years to start their studies because of Corona and other crises. Currently, 12 of the children we have already sponsored are in a-level status. That means 7 of them are preparing for their exams this year and next year and 5 of them are waiting for the results of their exams, which will be taken in February 2023. The pictures show the meetings in the letter garden and in Kotapola and the 8-year-old Hirusha at home with his family. We are looking forward to seeing our "rose children" again next year.
2. Current project special education at the Anula Wijerama Children Home in Balapitiya in cooperation with the All Ceylon Buddhist Congress (ACBC)
We have been supporting the girls in this children's home for 15 years. During this time, many girls have left the home when they reached the age limit of 19, but many new girls have joined. Currently, there are 35 girls aged 6 to 19 years in Balapitiya. We have been to the home countless times over the years. This year we were very happy with the status of this project. The development dialogues started last year (on site and 3 times via ZOOM) with the 10 oldest girls and the committee have brought us a high transparency and sustainable individual future perspectives for the girls. Two girls (Uresha and Woshini) have just completed the last part of their a-level exams in February and are waiting for the results. Both are 19 years old and usually they have to leave the home. Back to the family as far as available. We were able to get them to stay in the home until the exam results are in. This is because we would like to adopt them into a Rosenkinder sponsorship for their intended studies. Uresha has no parents, but an older sister whom she would like to have back to help her in her daily life. However, Uresha wants to decide freely about her life now and will occupy the vacant place of the third matron in the home with our funding from now on until she can start her aspired study of architecture. Woshini still has a mother and wants to study music, but also stay at the home until she starts her studies. We were able to organise that too, plus funding for some preparatory courses for her studies during the transition period. Two other girls with only mediocre o-level qualifications (Sapumali and Nipuni) will transfer to the Rosenkinder Hostel in Panadura on 1 July 2023 to start an apprenticeship in Beauty Culture. Level 4 status with job guarantee afterwards. 4 new girls have joined the circle of older girls, a first future dialogue has already taken place in the home. 3 more ZOOM appointments have been fixed for this year. All in all, the 35 girls are very happy, the 7 teachers we have engaged are very hard-working and the volunteer committee is taking care of the girls' well-being in our interest. The pictures here document our visit this year including the dental care lesson by our travelling member, dentist Ulrike Pape.
3. Children Home for blind and deaf-mute Children in Mahaweewa in cooperation with the All Ceylon Buddhist Congress (ACBC)
The joint visit right at the beginning of our round trip was the emotional highlight of our many project appointments. Certainly determined by the direct contact with the approximately 80 girls and boys in the home and school and the warmth of the teachers and caretakers there. Of course, we were all thrilled by the commitment of our Melanie Bierut who, now for the second time in Mahaweewa, was again very involved in the daily life of the home. The planned and necessary task of setting up an "Activity Room" was a special challenge in the current situation in Sri Lanka. Delivery of therapeutic material from Germany was not possible. The same was not available in Sri Lanka due to import bans. Without further ado, Melanie commissioned a group of craftsmen and created an Activity Room in a short period of time with great craftsmanship, which we were then allowed to open during our visit. We had three entertaining hours in Mahaweewa with various performances by the children, distribution of the small gifts we had brought with us, a tour of the grounds and finally a joint lunch at the home, even with mushroom dishes from the Rosenkinder mushroom farm. Melanie was able to engage two teachers from the school to supervise the Activity Room on weekends, because the handicapped children can only occupy themselves in small groups and under supervision with the many therapeutic activities that have been created. It is also nice that after the music and dance lessons, the state has now also taken over the English and IT lessons that we had previously financed. The success of these four additional measures we introduced was probably convincing. However, there are still some open issues, e.g. for the approximately 40 blind children there are only 3 still functioning Braille printers for the lessons. Spontaneously, we wanted to finance one, but even these are currently not available in Sri Lanka due to import bans. We are staying on the ball and would like to take this opportunity to express our sincere thanks to Melanie. Through her voluntary work in Mahaweewa, our help there is so targeted and purposeful for the children in the home and in the school.
4. Current project "Rosenkinder Hostel" at the Vocational Training Center in Panadura in cooperation with the All Ceylon Buddhist Congress (ACBC)
The Rosenkinder Hostel has now been in operation for 9 years and about 180 girls from various children's homes in Sri Lanka have received a qualified degree (Level 4) in the adjacent state training centre as well as placement in a subsequent internship and job. This is great and a big chance for a self-determined life of the home girls. Currently there are 13 girls in the Rosenkinder Hostel in the 1st year 2023, but in the entire training centre there are more than 60. It feels like it has never been so full. This has something to do with "after Corona" but also the recognised degree. We talked to many girls and many of them go abroad after their training, often to Arab countries. The Level 4 qualification is recognised internationally. For Sri Lanka, it is a pity that many of those who are so qualified want to leave the country, but paid work beckons. It is also currently a government goal to bring foreign currency into the country. The "guest workers" usually continue to support their families in Sri Lanka. However, a good education is a milestone in life, also for the girls in the Rosenkinder Hostel in Panadura.
5. Planned project "Rose Children Hostel 2" at the Boy Children Home in Payagala in cooperation with the All Ceylon Buddhist Congress (ACBC)
When we opened our hostel in Panadura, we already had the idea of promoting education for boys from the various ACBC children's homes. During our visit 3 years ago, we were shown the two vacant buildings in a very large children's home in Payagala. One was intended for our hostel, the other for a government training centre. Last year, the decision was made to start the project and to train organic farming there. For this purpose, an adjoining state-owned plot of land has to be signed over. Then, two months later, the state bankruptcy came. At the same time, through a great commitment of one of our members, we had received a large financing fund and wanted to start the project. During our visit this year, we made a lot of progress and believe that we will be able to open the hostel and the training centre next year. However, due to the lack of government funds, we have to finance not only the renovation of the hostel but also the training centre. This seems to be possible at the moment. In addition to the plan for training in organic farming, we are currently training to become a baker or pastry chef, as they say in Sri Lanka. For this purpose, there will be a training cooperation with a network of 11 large hotels in the area. As this is a really big project for our association, we receive qualified support from our local Lions Club for the project. It will certainly be an exciting year 2023 for all involved. We will continue to report.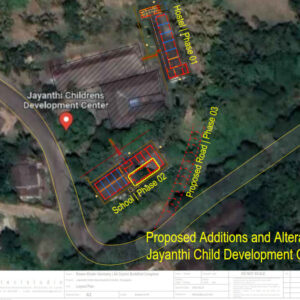 6. Other projects
The last month of the old year we were very intensively involved with the "Fight Child Hunger" campaign organised by the Lions Club District here in the country. It is simply about financing school meals for starving school children in Sri Lanka due to the national crisis. As reported in the last member information, we were able to collect a considerable amount through various campaigns and collections during Advent and transfer it to Sri Lanka. We have now received the statement of account and will finance a wonderful 24,872 school meals. The distribution will start with the beginning of the new school year this month. Our Lions Club Aluthgama/Bentota is involved in the processing and we are already looking forward to receiving pictures of this.
During our stay we were also able to participate in the last distribution of the project "Care for the unborn Child". After 15 months of support through monthly food donations, baby equipment and especially professional advice, all 5 supported young, destitute mothers came to the last meeting with their offspring. At the end of the meeting, the newborns received a savings book of 10,000 rupees. We are currently considering whether a follow-up project can be started this year. We would like to be part of it again.
Then we received an invitation from the All Ceylon Buddhist Congress to the central sports festival of all ACBC children's homes in Colombo. Not only as a guest on the tribune together with two ministers, but also with the chance to see our girls and boys from the children's homes in our care competing in sports and other activities. We were really looking forward to it and we believe our kids even more. They could proudly show us their individually designed huts per children's home. Balapitiya even won first place in this competition. We also took the opportunity to distribute the children's glasses we had collected last year to the more than 500 children from the homes. These were all cleaned and especially measured by Köster Optik from Uetersen. Through the efforts of an optical company from Colombo, these were then distributed at the sports festival. All glasses not needed on that day will be distributed to needy, destitute children in ACBC care.
7. Other information
After so much project information, a few general offers to our members and other supporters. We would like to point out and recommend the following:
Literary Rose Children's Lunch on 26 March 2023 at 12 noon at Stamm's Restaurant in Uetersen with Dr. Umeswaran Arunagirinathan and his 4th book "Grundfarbe Deutsch". There is great demand and currently only seats are available in the restaurant. If you would like to attend, you can still register by calling 04122 42737.
Another tip for friends of Sri Lankan Kandyan Dance is that on 25 March and 1 April 2023 there will be a fee-paying join-in course in Hamburg. The special thing is the trainer, namely Danuka from Sri Lanka. She travelled directly from the dance school near Kandy, which is supported by our association. Many of our fellow travellers will fondly remember their visits to the dance school. See also the attachment.
Last but not least and especially typical for Sri Lanka is the Sri Lankan New Year Festival on 15 April 2023 at the Freizeitzentrum Hamburg Schnelsen. So if you would like to be there and experience this event with culture, fun and Sri Lankan food and drink with us at the Rosenkinder table, please feel free to register with me. The organiser is the dancer Sulakshi, who we have often had the pleasure of welcoming to our Rosenkinder centre. So feel free to contact me and experience something typical of Sri Lanka here on site. See also attachment.
Also to note, because already arranged and booked, our 17th general meeting on 11 June 2023 at 11 am in the Stadthalle Uetersen. All further information will follow later, as usual.
Admittedly, it was a long report, but it was also due to the fact that we would like to report in detail about our trip to Sri Lanka this year and the very positive state of our projects. Especially in these very difficult times in Sri Lanka, our help there is of particular importance. All this is only possible through the lasting and sustainable support of our members and other supporters.
Have a good year 2023 in a globally not so pleasant time. In particular, stay healthy and cheerful and stay connected to the Rosenkinder.
Your
Dieter Kaske