Dear club members, dear other club supporters,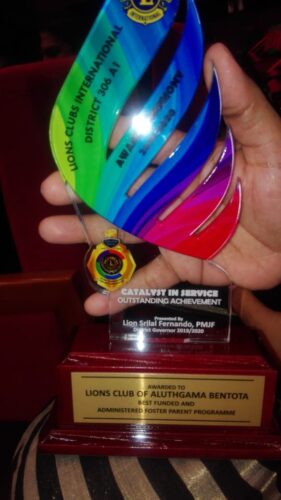 Maybe some of you have been waiting for a "Rosenkinder" news, because in such a Corona year you might want to hear or read something different. This member information should have been published a month ago, but sometimes waiting doesn't help. We had been waiting for pictures of our Corona food aid in the north, planned together with the heart surgeon Umeswaran Arunagirinathano "Umes". In the meantime this has been successfully completed for some time. Our "Umes" has honestly tried to get pictures of it and further information – so far in vain. He is already a little desperate about his fellow countrymen. That administration is not the great passion in Sri Lanka, we have otherwise already experienced in 14 years of project experience. In this respect we are still waiting for impressive pictures.
However, we completed our 14th general meeting on August 8, 2020 under corona hygiene conditions in the town halle in Uetersen. 19 participants, 16 of whom were members, approved the 2019 financial year, re-elected the "old" board for 2 years and appointed a new/old auditor. Of course there was also a lot of information, pictures and videos about our projects during the 2 hours. The annual financial statement for the tax audit of the association, which is due every 3 years, is already available at the tax office in Itzehoe. Result: We may continue with "blessing" of the tax office in Sri Lanka, "non-profit" with the donations of our members and other association supporters. At this point we would like to thank you, because without your generous donations this would not be possible.
?1. Current project "Rosenkinder" Sponsorships in cooperation with the Lions Club Aluthgama/Bentota
Our currently sponsored 67 "Rosenkinder" sponsorship are back in school or studying since the end of August. However, Corona continues to cause restrictions through hygiene measures in Sri Lanka as well. Our Rosenkinder have received our further sponsorship again on time, initially limited until January 2021. Before that, of course, an intensive digital coordination in detail with our helpers Chandani and Dooland took place. In February 2020 the school success will be checked again and the support will be initiated for another 6 months after that. We "hope" to be live again in Sri Lanka. Two girls have been newly accepted into our support program. The eleven year old Dehemi Ahinsa and the nineteen year old Sakuni de Silva. Sakuni's father has passed away, the mother has no regular income and has two siblings. She is so talented that after graduating from high school, she has now taken up law studies with our support. We visited Dehemi – shown here in the picture – at home last February and promised her a scholarship. The family lives in poorest conditions in a very simple hut, close to the Briefgarden, i.e. Dooland our project helper. The unemployed father had asked Dooland for help. Dooland provided him with a job at the beginning of the year and we had promised him support if he was successful. The family has proven itself and Dehemi is now in the 5th grade with our support. We are very curious to see how successful the girl will develop.
To "very" good end and very up-to-date. Yesterday our Lions Club Aluthgama/Bentota received a special award from the Lions Club District Sri Lanka for its excellent organization and secure financing of the child sponsorship program. All a sign for the good cooperation with us for 13 years now. At last year's German Rosenkinder Day in Sri Lanka we had already honored our helpers with a Rosenkinder Award. These are really "deserved" and compiled awards for 50 Rosenkinder sponsorship already completed and 67 ongoing Rosenkinder sponsorship. Allow me to congratulate our Lions Club on behalf of all members of our association.
?2. Current project special education at the Anula Wijerama Children Home in Balapitiya in cooperation with the All Ceylon Buddhist Congress (ACBC)
For the approximately 40 girls in the children's home, too, more everyday life has returned after the "lockdown". Our 6 teachers provide regular special lessons in the home and school attendance is also announced. It is especially exciting and important for 3 of the 5 girls in this picture. After the successful completion of the secondary school leaving certificate, they are now starting to prepare for their a-level. One of the girls (picture on the right) has unfortunately left the home and returned to her family. We would have liked to help further. A second girl (picture left) is just starting her training as a dental assistant in Colombo. If it works out, this would be the second girl in the coveted training program. The number 1 successfully completed her training at the end of last year and is now in a profession with a good income. All in all, a role model and good prospects for everyone in the home. Currently planned is a small horticultural project on the spacious grounds of the children's home. Our two members and repeated helpers on site Petra Gerlings and Ursel Kramer would like to organize a certain amount of self-sufficiency for the home with the girls and rose children project money. This also includes the purchase of usable and necessary equipment and plants. This action is financed by a special donation announced just today. Maybe soon there will even be a chicken house and own eggs in the home. Just today, of course, the implementation and help on site from our two ladies depends on the further Corona development here and there. We would like to report about it in spring.
?3. Current project "Rosenkinder Hostel" at the Vocational Training Center in Panadura in cooperation with the All Ceylon Buddhist Congress (ACBC)
After the strict lock down in Sri Lanka, since August prospective tailors and beauticians etc. are again being trained at the state training center. How wonderful for our 13 specially sponsored girls, who have been living in the Rosenkinder Hostel since January 2020. Due to Corona, the training takes place alternately and in smaller groups. Therefore, instead of the usual 6 months, this year's class stays in the hostel for 12 months until the end of the year and can then return to the home with a qualified degree. Most of the girls change immediately into a permanent job with a secure income. The prospects of soon opening a second Rosenkinder Hostel for boys have unfortunately not improved due to the current events.
4 Other "Rosenkinder" projects
We can also report on our second project in the ACBC children's home for blind and deaf-mute children in Mahaweewa. The regular operation in the home and in the special school has already been resumed. Thus also the pedagogical dance and music lessons, which are sponsored by us. Also the last preparatory work for our horticultural project has just started again. In 14 days the active horticultural part will finally begin in cooperation with the supervising university. I am looking forward to pictures of the first mushrooms to be cultivated in the first stage.
We can also report the start of a new round of the project "Care for the unborn Child". The 2nd monthly meeting has just taken place this weekend, also organized by the Lions Club Aluthgama/Bentota. At the moment 7 expectant mothers are being supported for 15 months and soon the first babies will be born. Our club has taken over the financing of 4 of the 7 mothers. These are: Thilini has just had her second child, but the father has left her. Rushani expects her first child in November. Tharika is expecting her third child in December, Thuruka her first child. All mothers from poorest circumstances and social need. They receive a large monthly food package, regular medical advice and later, together with the baby, qualified life support for everyday life. Here the group picture with the helpers from the Lions Club and the doctor and nurse from this weekend.
5. Other information
We experience that in Corona times, with its hardly predictable effects and consequences, further planning and thus also travel is extremely difficult and indeterminate. Whether we will be back in the plane to Sri Lanka at the end of January as desired, nobody can say at the moment. There is still a lack of secure conditions. We would like to, of course, but also not under exclusion of all risk provisioning. To that extent there will be certainly no usual Rosenkinder member journey. As a pensioner, one is lucky to be able to make a relatively spontaneous decision. This will certainly be necessary. If under the then existing conditions also some members would like to travel with us to Sri Lanka, in order to make for example an Ayurveda cure, one may announce oneself gladly with us without obligation already times. However, our current "Rosenkinder" projects are so well organized and supervised that, if necessary, for the first time since 2005, the annual trip to Sri Lanka next year could be canceled with a heavy heart.
I wish you all a beautiful autumn, good health and I hope you will continue to enjoy the Corona times.
You / Yours
Dieter Kaske